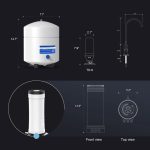 No electricity 100G Reverse Osmosis Water Filter System with Alkaline Remineralization
Product Dimensions: 5.2*5.2*14.9 inches

Tank Dimensions11*11*14.7 inches

Post carbon Dimensions: 2.1*2.1*7.9 inches

Flow Rate:100 gallons(@60psi ofinlet pressure, @77ºF)

Working Pressure: Min.25psi Max.85psi

Operating Temperature:Min.39ºF, Max 100ºF
Description
Multi-Stage Superb Filtration: under sink water filter uses RO membrane with highest filtration precision at 0.0001 microns, which effectively reduces more than 1000+ kinds of harmful contaminants (99.99%) from water including Lead, Chlorine, Fluoride, Heavy metals, Chloramine, VOCs, TDS, Limescale, Arsenic and more. Also includes a 2-in-1 composite pre-filter, and a post-carbon filter with alkaline & remineralization function, which further reduces bad taste, odor & polishes the flavor. 
Alkaline Remineralization & Small Size: The 3rd stage post filter balance the alkalinity of RO water and adjusts the PH to more than 7.5, and restores essential minerals to your drinking water at the same time. Featuring with compact size with a neat design, it is remarkably smaller than other traditional RO systems with ordinary size, which helps to save storage space under the kitchen cabinets. 
Low Drain Ratio & Longer Filter Life: Adopting water-saving technology, it features with 1:1 super-low drain ratio @70psi. For each cup of pure RO water, only 1 cup of wastewater will be produced (Most traditional RO systems produce 3 cups). The 1st stage uses a pleated composite filter, it has 3 times longer lifespan and better-removing capability, thus prolonging the lifespan of the RO membrane and cutting down replacement expenses.
Fast Water Flow & Multi-Usage: Equipped with a pressure tank, water flow can reach 0.8GPM, you can instantly fill up a 330ml cup of water in 7 seconds! The capacity of the system is 100 gallons per day. It doubles the output of traditional RO systems!