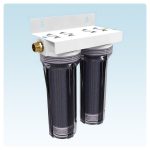 CW-02 2 Stage Water Deionizer for Car Washing
Model:CW-02
Capacity: 0.75 GPM
House Material : PP, AS PET
Filter type: PP, CTO, UF, DI Resin
Thread size;1/2″, 3/4″, 1″  OPTIONS
Temperature: 4°C-40°C
Burst pressure 22kg/cm2
Description
Specification
Deionized Spot-Free Car Rinse Unit – Premium Water Deionizer for Car Washing – Spotless Car, RV, and Motorcycle Wash System. The reason you see unsightly water spots left behind after washing is from TDS (total dissolved solids) in water. If you're looking for a quick, effective way to wash your car and avoid hard water stains, then you'll love this inline spot free rinse system. TDS in water can vary greatly depending on the water quality in your area. To achieve a flawless, spot free shine, you need to filter out TDS from your water. That's where this DI car washing unit comes in handy. The refillable cartridges are filled with a resin that's charged with Cation and Anion resins. These resins filter and absorb TDS and minerals, so you're left with clean water that'll deliver a professional-quality car wash. Even better, when you're finished rinsing your car, truck, RV, or motorcycle, you can let it air dry. You'll never need to towel dry when you use this rinse system
ALL-IN-ONE KIT THAT'S EASY TO ASSEMBLE – The deionized spot-free car wash system includes a Dual DI Unit Housing with Mounting Bracket, Plumber's Tape, (2) Cartridges, Wrench, Adapters, Flow Regulator, and Instructions
SUITABLE FOR USE ON ANY VEHICLE – Hard water spots are no match for this deionized water system. It's an excellent choice for cleaning a car, truck, motorcycle, RV, motorhome, bicycle, even the outside of your windows at home.
EFFECTIVELY REMOVES TDS IN WATER – When water passes through the resin, TDS (total dissolved solids) are removed. Each cartridge will remove approximately 1,800-2,000 TDS before you need to replace the resin.
DOES ALL THE "HEAVY LIFTING" FOR YOU – This water deionizer for car washing delivers a spot-free rinse without you having to towel dry. Wash your vehicle using the spot-free car rinse unit and let air dry. It's as simple as that.
QUALITY CRAFTSMANSHIP, BUILT TO LAST – You'll get many years of use from this DI car wash system. When the resin in the cartridges is used up, they'll turn a tan color. Purchase our bulk color changing deionized resin to refill.